Africa Roars - Spectral Q Associate Producer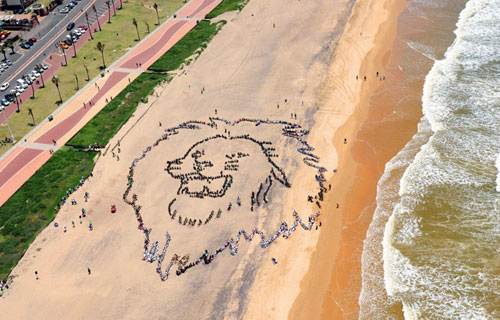 In a large scale collaborative effort, thousands of primary school children gathered on the beach in Durban to form a giant image of a roaring lion. In delivering this message to delegates inside COP17, this image came to represent the powerful voice of the South African youth urging policy makers not to negotiate away their futures.
Amidst all the politicians, businessmen, lobbyists, and governmental regulations, it is the role of human aerial art to break through and shine a human face (in this case a lion's face) on the issue of climate change. To remind all the delegates that their decisions have a profound effect real people every day.
The image itself was sketched by 15 year old Aldo from a local primary school which participated in the project. As Aldo's first art patron, we were extremely touched by his courage to share his work with all of us, and ultimately the world.
This piece was about making an impact across the world, about calling the attention of our international leaders to the demands for climate change to be acknowledged and remedied. Yet perhaps more importantly this piece was for those who came out that sunny day to be able to walk away with a sense of pride and commitment to embodying and exploring environmental sustainability in their own lives.
The Team
John Quigley - Aerial Artist, Producer
Lekha Jadoo - Co-Producer
Julia Jay Posin - Associate Producer
Shayne Robinson - Aerial Photography
Robert Van der Waarden - Photography
Sidney Jude - Design
Sara Jones - Videography
Mayli M - Artistic Coordinator