Kids Ocean Day - Spectral Q Production Coordinator & Sustainability Director for:  Malibu Foundation, Spectral Q & The California Coastal Commission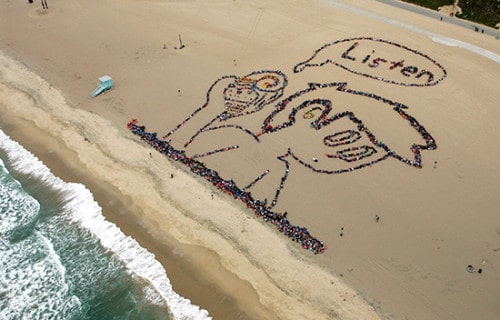 Kids Ocean Day is an annual event that celebrates responsible stewardship to the oceans by bringing thousands of students to Dockweiler Beach  in Los Angeles to clean up the land, learn about the delicate ecosystem of our oceans, and create a collaborative human aerial art piece to help spread the message far and wide.
This event is a collaboration between The Malibu Foundation for Environmental Education, Spectral Q, & The California Coastal Commission. Over 680,000 California school children have participated in the Kids Ocean Day Program over the last 21 years. I have served as their Sustainability Director in 2013 & 2014.
The Team
John Quigley / Spectral Q - Aerial Art Director, Producer / Organizer
Malibu Foundation / Kids Ocean Day - Producer / Organizer
California Coastal Commission - Partner / Organizer
City of Los Angeles - Partner / Organizer
Keep LA Beautiful - Partner / Organizer
Jeff Pantukhoff - Aerial Photographer / Videographer